Syd Field - "the guru of all screenwriters" (CNN)
SYD FIELD'S PASSION AND MISSION
Syd was deeply enthusiastic about storytelling, movies and teaching. While a writer's inspiration may come from the heart, Syd wanted the world to know that the craft of screenwriting could be learned. Writer/Director Judd Apatow said, "Syd Field wrote screenwriting books which did exactly what they were supposed to do – they made screenwriting seem possible."
Syd's love of film, his masterful understanding of storytelling, and his skillful expression of his ground-breaking paradigm for screenplay structure, has benefited writers, directors, studio executives, independent filmmakers, and ultimately the global audience. Mentoring writers delighted and excited Syd, who recorded and filmed a number of webinars and classes, many of which are yet to be released.
Aviva Field, Syd's wife, as well as his long-time protégés and contributors to this website, are devoted to honoring his mission. This site is imbued with Syd's heart and spirit, embodied here as an internet resource for screenwriters and storytellers. We are committed to bringing projects to fruition that were started by Syd. A documentary about the impact of his teachings around the world will be produced by Aviva.
It is our fervent desire to sustain Syd's legacy; to ensure that his method stays true in its intention, continuing to motivate and empower the creation of compelling screenplays by new and seasoned writers for generations to come.
Read More About Syd Field
Products

Syd Field's books on the essential structure of emotionally satisfying screenplays
have ignited lucrative careers in film and television since 1979.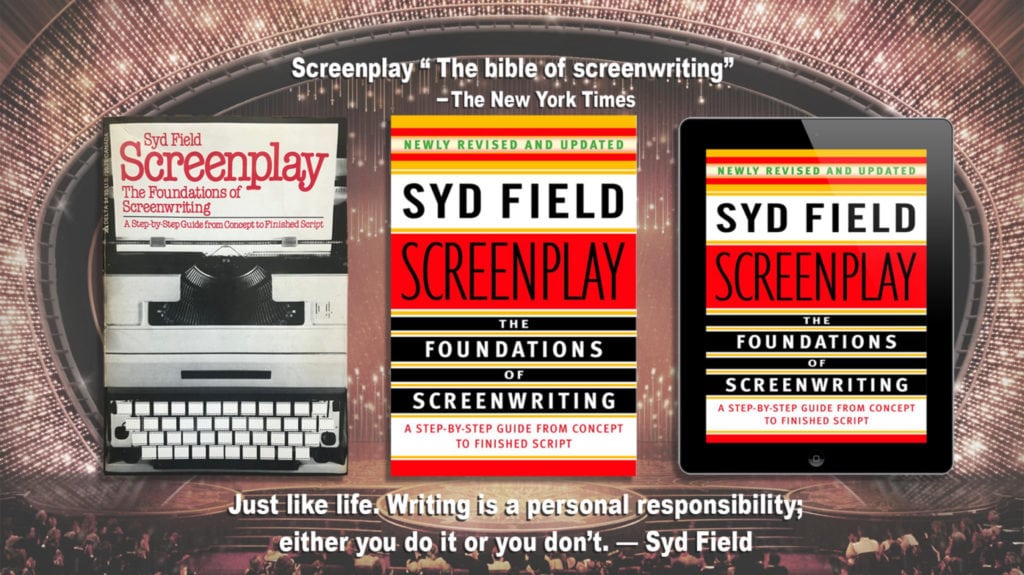 Screenwriter's Workbook – "What is film?" Is it Art? Literature?
The Screenwriter's Workbook explores the process of writing a screenplay, which is visual story telling. I call it a "what-to book," meaning, if you have an idea for a screenplay, but don't exactly know what you have to do to write it, this book will guide you through the screenwriting process.